Our version of virtual foreign currency account
Allow customers to conveniently pay with their country's local bank transfer, which is reliable and fast. Compliantly withdraw any amount at your convenience and receive funds within 1 business day.
Businesses of all scales, from independent professionals to large enterprises, use Xflow Receiving Accounts for convenience, cost-effectiveness, and compliance.
Collect in US$
more currencies coming soon
Receive from worldwide*
*except sanctioned and high risk countries
Get Paid to India
INR and EEFC account
Get going quickly and effortlessly
Get a free US$ Xflow Receiving Account on sign-up. Share your Receiving Account details with customers and start receiving payments from almost anywhere in the world. It's as simple as that!
International payments made simple and reliable
Customers use local transfers to deposit payments into your Receiving Account. Xflow's global banking partner then securely moves money to your bank account.
Improved reliability
With no intermediary banks between your customers and your Receiving Account, funds are delivered on time with no surprise charges.
Faster settlements
Unlock payment options like RTP and Fedwire that settle funds to your Xflow Receiving Account instantly and within a few hours, respectively.
Lower costs
The bank fee for local transfers is significantly lower than that of international wires. Payment options like ACH are practically free for your customers.
Track payments, and withdraw any amount compliantly
Get notified of incoming payments and compliantly withdraw funds to your bank account.
Streamlined operations
Payments are deposited directly into your bank account. There is no back-forth with your bank to get funds into your account.
No restrictions on withdrawals
No restrictions on withdrawals
You can withdraw funds received in your Xflow Receiving Account whenever you need to, as often as you want, and in any amount you require.
Free FIRA
Get a free FIRA issued by an RBI-authorized bank for every withdrawal.
Run your business on a fast, predictable and transparent payment stack
Take advantage of speed, predictability, and transparency to improve your business operations.
Next business day settlements
Next business day settlements
Withdrawals from your Xflow Receiving Account reliably arrive in your bank account within 1 business day.
FX certainty
You will know the precise INR amount that will land in your bank account when you withdraw from the Xflow Receiving Account.
Better understanding of costs
Better understanding of costs
Get FX rates linked to inter-bank or mid-market rates to know your actual payment cost.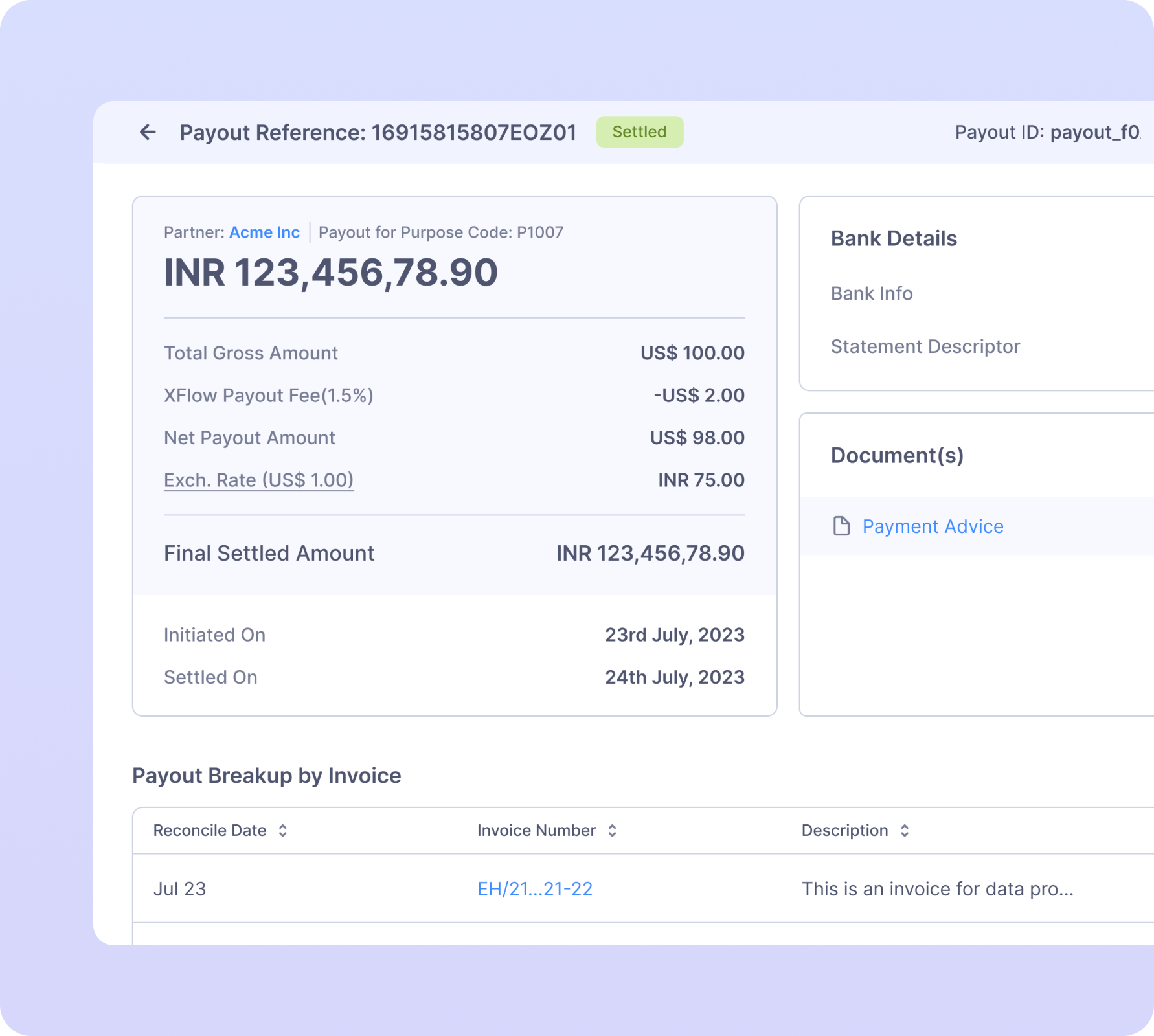 Manage your Xflow Receiving Account from our Dashboard or integrate with our APIs to build your own workflows.